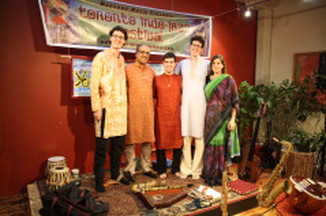 This wonderful post was written by my gorgeous friend Melanie who was inspired to share her experiences of Yoga Food Music!
I attended the
sixth Yoga Food Music (Yoga Ahaar Sangeet)
Event
this Sunday in downtown Toronto. I've been to all of them thus far and as long as I'm in the country I will continue to go. I always leave there feeling more inspired and more alive! These are moments I live for to
truly experience something by opening yourself up
and just absorbing it all. It is this richness of events like Yoga Food Music that make my life a colorful one.
Let me break it down for you…
Yoga
The yoga warms you up, you start to become more present and eventually what you carried with you from the day, the week, isn't as heavy. Your
mind is a little quieter
and you feel a little
lighter
.
Food
- The food is amazing and always shared over good conversation with like-minded people!
Event organizers, Shayna Young and Jonathan Kay, prepared a wonderful Holistic lunch of
South Indian food
from Tamil Nadu. Together their cooking styles blend and create the most delicious meal that makes every cell in your body beam! The spices warm your heart, the freshness and flavors just make your soul smile. It so different form what you're used to it turns eating an exciting adventure of the palate!
The menu of the day:
Sambar (vegetable lentil stew)
Rasam (spiced soup)
Idli (fermented & steamed rice cakes)
Bean Poriyal (dry bean curry with ground lentils)
Coconut Kale Channa Masala (chickpea curry)
Pani Puri- everyone's favourite! Pastry shells filled with mixed sprouts, sweet potato, onion, fresh coriander, and chickpeas with a hint of sweet and spicy tamarind chutney and a touch of curd (yoghurt) all drowned in mint, coriander, spiced pani (water)
Fresh Coconut
Coriander Coconut Chutney
Green Tea
Almond Milk Spiced Chai
The after meal paan is what I enjoyed the most! Paan (pawn) is a preparation of aromatic herbs all folded into a betel leaf we added:
Betel Nut
Coconut
Clove
Cinnamon
Green cardamom
Fennel
Gullkand (Rose petal sugar)
This was my first time trying paan and it was a lot of fun to make! It is used after a meal to
help with digestion
and give your mouth a fresh taste. Once you stuff the leaf you close up and place it in the corner of your mouth, tucking it into your cheek. You're supposed to slowly chew away on it.
Music
You start to listen to the music of instruments you may have never seen or heard before; it is so beautiful! You just close your eyes and let the sound lift you. You can feel yourself get lighter and lighter with every note like a flow of love and gratitude surging through your body. Just being there and sharing in the energy of the music makes you radiate with joy from the inside out.
The very talented musicians preformed two styles of
North Indian Hindustani Classical Raga Music called Khayal and Bhajan.
I really appreciated being able to sit directly in front of the musicians while they played; it truly connected me to the music in the most intimate way.
Jonathan Kay – Tenor and soprano saxophone
Andrew Kay – Alto Saxophone
Justin Gray – Bass Veena
Ravi Naimpally – Tabla
This event was dedicated to the late musician
Pandit Ravi Shankar
who passed away last week. He was and will forever be the world's premier sitar Maestro. He came to America from India in the 60's and, along with the help of George Harrison from the Beatles,
brought Indian Classical music to the West and the World.
As a special guest we were very lucky to have Som Naimpally, mathematician and Indian Classical lover, there to speak about the life of Pandit Ravi Shankar. He shared with us his memories of sitting directly in front of Ravi Shankar in performance, and the journey of dance and music that was Ravi Shankar's life. Mr. Naimpally spoke with such a fond lightness to him that his words made us feel as if we were all at the amazing concerts of the great Ravi Shankar.
You always head home from Yoga Ahaar Sangeet knowing that you just
nourished your mind, body and soul.
We need gatherings like this; the kind that leave you feeling a little lighter and filled with a little more love.
I'm very glad to share this with you just as it has been shared with me.
Namaste <3
Melanie
For more of Melanie's posts please visit melanieyoga.wordpress.com