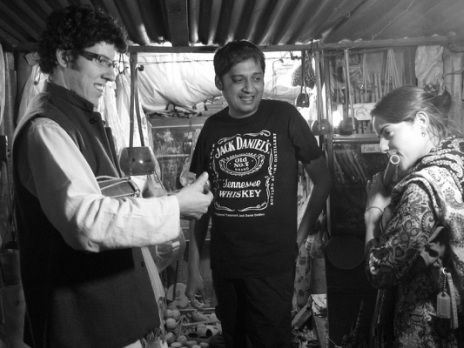 Tradition in New Light


It was only a few short weeks after I arrived when I found myself at the airport again, this time to collect my Mum. Jonathan and I had already been hosting friends Chris and Laura and now we had seven people in and out of our two-bedroom apartment. I had thoughts of how my Mum might react to this place but I didn't want to speculate too much. As you may have suspected her first comment was about the filth, garbage, grime, and grit, but the awesome colours and delightful people quickly seconded that. Our time in Kolkata was spent exploring our home. A walk through the village south of the apartment resulted in photos of water buffalo, cow patties, and construction. It is these things that I would like to discover with you as a source of resourcefulness and tradition.

Exploring the streets near my home I see brick walls built to surround small plots of land that are covered

in round disks of cow dung. Further down the lane is a water buffalo shed, open stalls with several buffalo in each one. Behind the shed is a huge cesspool of manure, and thigh deep in the dung are two girls no older than 12 scooping up the precious slop by hand and heaving it back into one of the stalls. Beside the cowshed is a bamboo-thatched workspace with an exhaust pipe sticking out the side. Inside is a noisy machine that chips straw into small pieces that will be mixed with the dung. Women fold the straw in with the dung until its consistency holds together just so. They carry the wet fuel, hoisting baskets of it over their heads, to an open plot or wall where they form it into patties and slap it into place to dry, leaving a perfect hand print in the centre of every patty. These disks, once dry, are carefully peeled off walls, trees, and ground and are creatively stacked, stored, or immediately used for fuel. So why on earth would the Indians use cow dung for cooking fuel? The best tools are the ones you can source locally and in India the logic of utilizing products within your environment in a sustainable way is still very present. Trees and firewood are scarce and expensive to use for everyday cooking, however cow dung is very inexpensive, effective, and plentiful. Cow dung is also used for building insulating walls that keep out the heat, and smoldered as a mosquito repellent. The cow in Hindu tradition developed into a sacred deity that for many decades has been exempted from slaughter for food. It is believed that the products the cow provides as a living being are more integral tools for the Hindu people. The cow provides obviously more than just dung, the people also look to the cow for milk, from witch they produce ghee, and curd.

It depends where you are in this vast country as to what kinds of milk products predominate. As you might have guessed in the north in the Himalayas you'll find more butter than ghee, and in the south vice versa, and for a good reason. Most people live without a fridge, and that means in the south butter would spoil, or it might become so hot it turns itself into ghee. The traditional process of producing ghee is a heating of butter, cooking out of the impurities that would cause spoilage. Once the butter is clarified in this way it will keep up to two months without refrigeration. So even for those of us who have a fridge, why would you use ghee instead of butter? Ghee has a higher heat tolerance, or a higher smoke point, why, because it lacks the impurities or milk solids of butter that cause it burn at a lower temperature. So you can get the heat you need for a flash fry or sauté and still preserve the integrity of your oil. Yes ghee is an oil/milk fat/saturated fatty acid and no, it's not inherently bad for you. Just as controversy carries on over butter vs. margarine so does the lack of understanding behind fat. I'm not saying that you should eat ghee exclusively but I am saying that, once you have a better understanding of fats and their importance in the body you won't be afraid to pitch the "healthy" margarine. For the full truth on fats look for, "Fats that Heal, Fats that Kill" by Udo Erasmus. In the south the same holds true about milk as it does for butter, in order for it not to spoil they decided to produce a product that would last just a little bit longer, this time curd or yogurt. The idea of introducing a bacterial culture to milk to intentionally let it "spoil" producing yogurt is ingenious. Not only can you keep your milk in a warm or downright hot environment but you also get a sour cooling byproduct that provides beneficial bacteria to the digestive tract that boosts the immune system. Living in India it has become a custom in our home to produce curd for the following day, every night. Bring milk to a boil, allow the temperature to drop so you can withstand holding your fingertip in for 3 seconds, add a teaspoon or so of yogurt to the milk, and let it stand in a warm insulated environment overnight. People utilize and create milk products in conductivity to the environment. Thus the products serve a twofold benefit to the environment and the people. They work within the external temperature of the environment produce useful products that suit the body's internal environment.

An extensive network of poles create an exoskeleton surrounding 3 story homes and apartments popping up in our neighborhood, but they also reach high above the Kolkata skyline in the massive construction of condo and office buildings. Bamboo is a grass that is famous for its fast growing nature and use in multiple applications. It is in such abundance in India that you'd be hard pressed to go without seeing it, in it recognizable form, in a day. As if I'm situated in a gallery, witnessing art insulation in the process of creation, I watch as acrobatic workers in flip-flops or bear feet hand fasten together bamboo scaffolding with strips of cloth. They come down with a deconstructive dismantling crash as skillfully as they went up, slowly reveling the finished construction contained within. I marvel at the production and use of bamboo construction materials. Long poles are skillfully reduced to strips that are woven into giant mats used for siding of more "temporary" style structures. Bamboo poles are used to make ladders and fastened together to create framework and rafters. Bamboo structures are put up and taken down for every pooja, wedding, and celebration. Between the bypass and the riverbank is a plethora of makeshift homes that make up a tiny slum, almost completely fabricated out of bamboo. It is used in every economic situation from the most elaborate of weddings to the humblest of roadside vendors; it is used to make lateens over the river, and beautiful décor for the rich. It is a scarcity to find bamboo in the kitchen in India however the tasty shoot morsals have worked their way into Karnatak Indian cooking providing fiber, potassium, and antioxidants working as an anti bacterial, anti fungal and anti cancer exotic food. Its economical and ecological viability have infiltrated every aspect of life so thoroughly that I could not possibly give you a breakdown of every bamboo application, however, and most importantly to me, bamboo is used to make music. The whispering tones of the Indian bamboo bansuri, or flute, have wound their way into many different styles of music throughout India. Bamboo is the backbone for dozens of different string instruments and drums, most of which I've likely never seen nor heard. The infinite creative genius within this elegant grass transcends time and tradition through to the modern age.

I'm with my Mum and Jonathan and the train stops at one of the many stations that dot the Indian countryside from Kolkata to Shantiniketan. Often vendors travel the rails selling their wears, witch can be just about anything you can think of, and many things you wouldn't, like mothballs. But stepping on the train, at the opposite end of our car, is a man carrying a strange one stringed instrument that looks like a drum with a bamboo pole fastened to it. He starts to play and sing, methodically he travels the whole car before accepting any tips. So begins our journey to Baul country, the cultural creative centre of Shantiniketan. The Bauls are a linage of mystic minstrels that have carried out a specific style of Bengali folk music on instruments like the ektara we saw on the train, ektara literally meaning one string. Rabindernath Tagore, the man who put the Bengal and Shantiniketan on the world map was greatly influenced by the Bauls and wrote many poems and songs with them in mind. In 1913 he won the Nobel Prize for Literature after his poetry Gitanjali: Song Offerings was translated into English.

"Art thou abroad on this stormy night on thy journey of love, my friend? The sky groans like one in despair.
I have no sleep to-night. Ever and again I open my door and lookout on the darkness, my friend!
I can see nothing before me. I wonder where lies thy path!
By what dim shore of the ink-black river, by what far edge of the frowning forest, through what mazy depth of gloom art thou threading thy course to come to me, my friend?" ~Gitanjali 1912

"Who are you, reader, reading my poems a hundred years hence? I cannot send you one single flower from this wealth of the spring, one single streak of gold from yonder clouds. Open your doors and look abroad. From your blossoming garden gather fragrant memories of the vanished flowers of a hundred years before. In the joy of your heart may you feel the living joy that sang one spring morning, sending its glad voice across a hundred years." ~ The Gardener, 1915

Tagore held a distaste for classroom learning comparing it to, ""The Parrot's Training", a bird is caged and force-fed textbook pages—to death…". (Wikipedia) This prompted him to develop his own education system that looks at learning in a revolutionary light. The Visva-Bharati University in Shantiniketan, founded by Tagore himself, brought a more personal and responsible relationship between the student and the teacher much like the Indian musical or spiritual relationship between Guru and shishya (teacher and student). He also brought the lessons to an outside more organic environment and developed tangible applicatory lesson plans. The idea to allow the traditional Indian sharing of wisdom to transcend and transform the more western schooling system in place in India, is the epitome of tradition in new light.

Shantiniketan brought a beautiful perspective of India to my Mum. Our guesthouse host was phenomenal bringing in his Baul musician friends for us to meet and jam with (go to Baul Wikipedia and the 1st photo is our new Baul friend!), providing all our delicious meals, and sharing a night of music with Jonathan and I with the Bauls in the village. I continue to look for the wisdom of Indian tradition in modern times and will continue my journey to Darjeeling, the light of Tibetan culture.