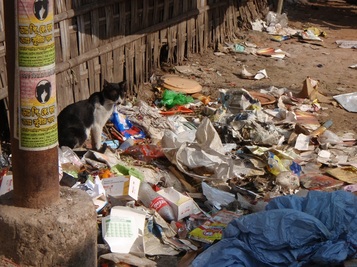 Toxic Travel

It seemed only fitting that on Friday the 13th I was in the presence of such an extreme amount of toxic material that I could only be in a landfill or in India. Today we were traveling to Agartala, the capital of the Indian state of Tripura on the eastern side of Bangladesh.

Early morning we arrived at Gurujis and set out to find taxis. "He barely got it started, but we need a taxi and it's working now", was the comment from Justin as we piled into the rickety old taxi. It was the worst taxi ride to date. The exhaust, instead of retreating through some kind of exhaust system, was expelling into the cab of the vehicle. Regulations on vehicles are loose and, especially in the case of these cabs, rarely followed. The choking inhalation of carbon monoxide, nitrogen oxides and particulate matter, mixed with the pooja incense burning on the front dash, made it nearly impossible to breathe.

Kolkata is one of the most densely populated cities in the world. The Grater Kolkata Area is approximately

3 times smaller than the Greater Toronto Area (GTA) with a population 2.5 times (@14.1 million) that of the GTA. This density of living, without refined regulation of air, water, or land pollution, riddles the environment with filth. Why would I ever want to spend any time here? It is within the extremities that the most miraculous of events and concepts take shape. Ayurveda, the Indian system of healing, is the perfect response to dealing with intake of environmental pollutants. Not all Indians abide by the practices of Ayurveda and you can tell by all the snorting spitting and expulsion of particulate filled phlegm in many areas of India. The simplest remedy for this buildup of air pollutants in the nose is outlined in the Ayurvedic practice of Jala Neti; the process of cleansing the nasal passage with salt water. The incorporation of this practice in everyday routine helps ensure that the nasal passage is not only clear but also working to efficiently purify warm the air that reaches the lungs. Essentially, Jala Neti involves introducing salt water in through one nostril which travels through the nasal cavity, and out the opposite nostril. It's a simple, short process that takes no more than 5 minutes. The outlook on this process, when approached for the first time, must be one of non-judgment. Put your mind at ease. The more you think, the more difficult the idea of even trying this beneficial practice will be. Cleansing in this way helps the immunological, germicidal mucus membrane in your nasal cavity stay healthy in order to function optimally as a remover of particulates and germs in the air. As I depicted earlier there are many pollutants in the air in Kolkata. Being sure your respiratory system is working optimally is a must.

Combating pollution is exhausting especially when I voluntarily add the stress of air travel. Because Agartala is on the eastern side of Bangladesh, the only sane option of getting there from Kolkata is flying. It's a short flight but even in that time the body is faced with dry air, cosmic radiation, constant motion, possible disinsection treatment (before and/or while passengers are on board), altitude pressure changes, reduced oxygen levels, and gas expansion. No wonder that even after a short flight I feel exhausted. Again Ayurveda, an ancient wisdom, comes to the rescue for a modern issue. Every Ayurvedic book starts the same way with an explanation of Ayurveda or Science of Life and the three doshas or governing forces of life. These doshas; vata, pitta, and kapha, are found in varying amounts in everyone and must be kept in balance to keep the body free of dis-ease. Vata is the dosha representative of air and space, movement, and dryness. It is easy to see how the complications of air travel specifically throw it out of whack. To balance vata, hydrate by drinking plenty of water, keep nasal passages and skin supple with organic sesame oil or a good salve, and abstain from alcoholic beverages. To combat cosmic radiation (a bigger issue if you fly frequently), motion stress, and possible insecticides we can look to supplements like triphala. Triphala is a blend of three fruits that symbiotically work in the body to balance the doshas. It contains high amounts of antioxidants, especially vitamin C, and aids in detoxifying the body. Rhodiola is an herb native to the arctic regions of Tibet and Russia and has proven to support the body in times of decreased oxygen levels, fatigue, and altitude stress. Providing the body with proper circulation while in flight also helps to balance vata so be sure to get up and take a walk and make sure your breathing is slow, deep, and relaxed.

Agartala is a simple place rarely visited by foreigners. In fact, they keep a physical tally in the registration office at the airport of how many have come and gone over the years. The numbers, especially for North American and European visitors, are tiny. No surprise then that when I entered the office for this visit they recognized me from my previous visit three years ago.

We were greeted at the airport by our friends from Aalor Pathe, a children's Indian classical music organization that Shantanuji (Guruji) has been tutoring for about 5 years. Adorned with flowers, we were whisked away to the Sri Anandamayi Ma ashram where Guruji would be performing that evening. We were introduced to Swamiji as students of honored guest Shantanuji, and were invited for to stay for a private lunch. Before we sat to eat I took a closer look at a datura bush in the garden. As I learned from Swamiji, it is quite poisonous and used in Ayurveda cautiously and sparingly. Upon further investigation, the only reference I've found to this plant in Ayurveda is in connection with abortion, toxic indeed. As we took our places to eat I couldn't help but notice the assault on my olfaction; the scent of chemical cleaners was nauseating. I understand the need for cleanliness and elimination of harmful bacteria but not at the expense of polluting the environment with harsh toxins. Many ingredients used in these cleaners are known carcinogens, considered to be at "safe" levels for moderate use of a product. This partial picture fails to present the landscape of the entire portrait. First the initial contact fails to include the probability that if someone is using one chemical cleaner they are more than likely using other chemicals as well, thus not taking into account the total buildup of all chemicals combined or the reaction (synergy) that they might have with each other. Second is chemical accumulation. The residual environmental effects of using such products are substantial. The earth is capable of detoxifying itself but not at a rate that will keep this overpopulated earth healthy. Chemicals introduced in an isolated area are easily spread through air and water currents to anywhere, destroying the delicate composition of all living things. Due to the high estrogenic properties of many chemicals they are especially adept at disrupting the endocrine system and have been known to cause mutations in sex from male to female in marine life and increase the probability of female offspring. Many of these chemicals are lipophilic meaning that they like fats and thus in the body are stored in your fat cells. For many of us that carry a few extra pounds, this can be a huge problem when we finally decide that enough is enough and start changing our lifestyles and shed weight. All of the toxins that our body safeguarded us against by hiding them in our fat cells are now being released into the body. Proper elimination of toxins is crucial and the Ayurvedic Panchakarma (five actions) detoxification supports the body in rejuvenation. The Panchakarma system, supervised by Ayurvedic parishioners, is a complex but effective system that I will leave for the moment but, if you're so inclined let me know and I'll provide more information.

Lunch was served and so delicious! Many courses of vegetable curries, paneer, dhal, rice and curd were served. Too much food in fact and this will be my last toxic detail. I think it's inherent in every culture that to be a hospitable host you must feed your guest as much as possible. Indian society is no different with rich food high in carbohydrates refined sugar, and enough rice to build the Taj Mahal. My first point is in regards to my physical size and the size I intend to stay. Whenever I sit down to eat I am inevitably served the same amount of food that is given to a man twice my size. It is the most difficult thing to refuse food, and even considered rude to many people. I never mean to offend anyone but I have learned to only accept what I know I can eat. The second issue is in regards to the type of food. Many dishes especially reserved for guests are very heavy on the digestive system, loaded with oxidized fats and sugars. Not only are these foods taxing your body of nutrients, promoting fat cell construction, and wreaking havoc on blood sugar levels, they are also making it extremely difficult for your digestive system to work. Just as many cultures will feed you heartily they will also give you a million remedies for digestive issues of all sorts. Again Ayurveda as well as Yoga give us some good tricks in case we feel we must eat everything. I will mention triphala again as it is a mild laxative that helps tone the intestinal tract. Fennel is often provided in the form of saunf after meals in India to curb digestive bloating and gas. Yoga asanas are always advised against until 3 hours after taking food but there is one posture vajrasana (thunderbolt or diamond pose) that is highly advisable after meals. This relaxing asana is conducive to proper back posture and simulates the digestive process. It may take a while for you to feel the comfort of sitting on your heels but you can defiantly feel how it straightens your back.

That night we were treated to Shantanuji's wondrous rendering of raga music as well as Monsoon trio. The concert, as always, ran late but the audience was attentive, taking in every note as a cleansing of the soul. The next few days in Agartala were spent in lessons with the Aalor Pathe children learning new compositions from Guruji. These lessons are a cornucopia of raga wisdom, overflowing with invaluable information that will feed the development of the student's musicality for lifetimes to come. As we said good-bye to our friends in Agartala, I thought of the bombardment travel to come. But with the right tools to keep my doshas balanced, I know I'll stay healthy.

I welcome my Mum to Kolkata next entry and take a trip to Shantiniketan, home of Nobel Prize winner Rabindranath Tagore.